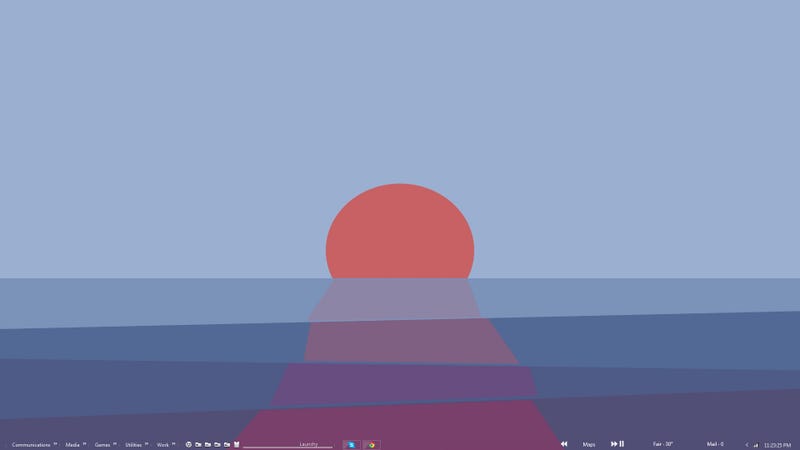 I get easily distracted while studying and working and wanted to create a desktop that would minimize distraction and maximize my ability to work.
The taskbar is a transparent windowblinds8 skin "Modern" by Danioc and Stardock (I believe it comes in with the windowblinds8 download) (http://www.stardock.com/products/windo…)
The taskbar is tweaked with 7+ taskbar tweaker, turning off the taskbar always on top through the advanced options so that launchy and rainmeter could rest there and still maintain their clicking-usages. The taskbar is also able to launch the start menu through double-clicking anywhere and the volume is accessible through using the scroll-up or scroll-down button on the mouse. (http://rammichael.com/7-taskbar-twea…)
The launchy skin is a design I did myself using GIMP (http://www.gimp.org/) and the software base from "Glass" (http://neeepah.deviantart.com/art/Glass-for-…).
The menus and icons are all options from the stock windows 7 toolbar. The icons for the quick launch section are from "Token Light" icon pack (http://www.iconspedia.com/pack/token-lig…)
The rainmeter options are from Enigma for the mail and weather (with some changes by me, namely changing the font to Segoe UI) (http://kaelri.deviantart.com/art/Enigma-103…) and the media player is from Muxos (http://linkplay9.deviantart.com/art/Muxos-for-…) with my own simplifications to the UI and self-made button skins. The open programs lie between launchy and the media player.
The background is from Summer Sunsets (http://simpledesktops.com/browse/desktop…)
It was mainly made so that while I work I didn't have to look around for anything to do, so I didn't ADD out and spend 5 hours looking at puppies dressed up as scientists instead of study biochemistry.
Have a great day!